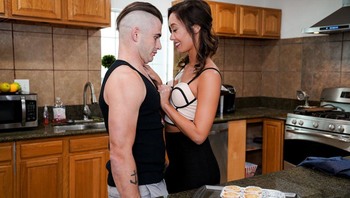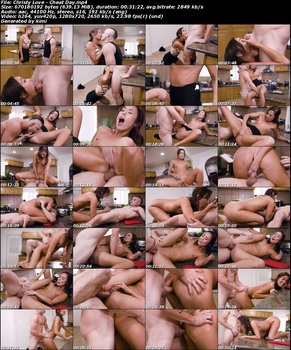 File: Christy Love - Cheat Day.mp4
Size: 670180192 bytes (639.13 MiB), duration: 00:31:22, avg.bitrate: 2849 kb/s
Audio: aac, 44100 Hz, stereo, s16, 192 kb/s (eng)
Video: h264, yuv420p, 1280x720, 2650 kb/s, 23.98 fps(r) (und)
https://rg.to/file/c055a2608e911c48cc2b628b06d755d0
Christy Love is in her kitchen baking. Just as she pulls a tray of baked goods out of the oven, she hears her doorbell ring. She sets the tray down, removes her oven mitts and goes to answer the front door.
She opens the door to reveal Nathan Bronson standing there. He announces that he has finished mowing her lawn. As she's thanking him, he catches a whiff of her baked goods. Remarking about how great it smells, he invites himself in and just walks right past Christy into the house, following his nose. Christy looks after him, bemused. 'Well, come right in I suppose!'
Christy follows him back into the kitchen and points out the source of the good smell, adding that the baked goods just came out of the oven, so they need to cool down before they can be eaten. Checking him out a little, Christy invites Nathan to stick around until they cool down. Nathan is hesitant, saying it would ruin his diet, but Christy, pulling up his shirt and tracing her hand seductively on his abs, insists that he's entitled to one cheat day. His eyes go wide, clearly getting her vibe. But still, he's hesitant, asking her what her husband would think. Christy winks seductively as she answers him.
'Well... I think I can afford one cheat day once in a while TOO!'
Asian, Deepthroat, Squirting, Blowjob, Pussy to mouth, College, Brunette, MILF, Open Mouth Facial, Tattoo & Piercing, Cunilingus, Fingering​